Office Watch on the Kindle
Office-Watch.com titles are now available on the Kindle
We're delighted to announce that three Office-Watch.com titles are now available on the Kindle.
You can now get our popular Office-Watch.com ebooks to read in the Kindle format – either on a Kindle device or on a PC, Mac, iPad or even an iPhone or Android phone!
Office 2010 the real startup guide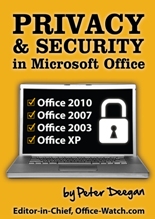 Privacy and Security in Microsoft Office
Clever Outlook Contacts
All the Kindle device/software features are available including changing text size to make reading comfortable for you, 'reflowing' text to fit the screen, adding your own notes and text-to-speech. Whispersync lets you open the ebook at the same place wherever you are reading – think of it as an automatic portable bookmark.
Of course the Kindle software gives you a full color images throughout.
We haven't just 'ported' the current ebooks to the Kindle format. As enthusiastic Kindle users we've added Kindle specific information in the endnotes – just as there's a primer for PDF readers in the recent, current editions.
We've made sure that the exact same content is in the Kindle editions of the ebooks – everyone gets the same 'no holds barred' details, help and tips on Office products.
Remember, lovely as the Kindle devices are, you don't need Kindle hardware to try out Kindle books. The Kindle software is free for PC, Mac, iPad, iPhone, Blackberry and Google Android devices. There's many free books to try it out.
See Also